My Subscription Addiction Review – June 2017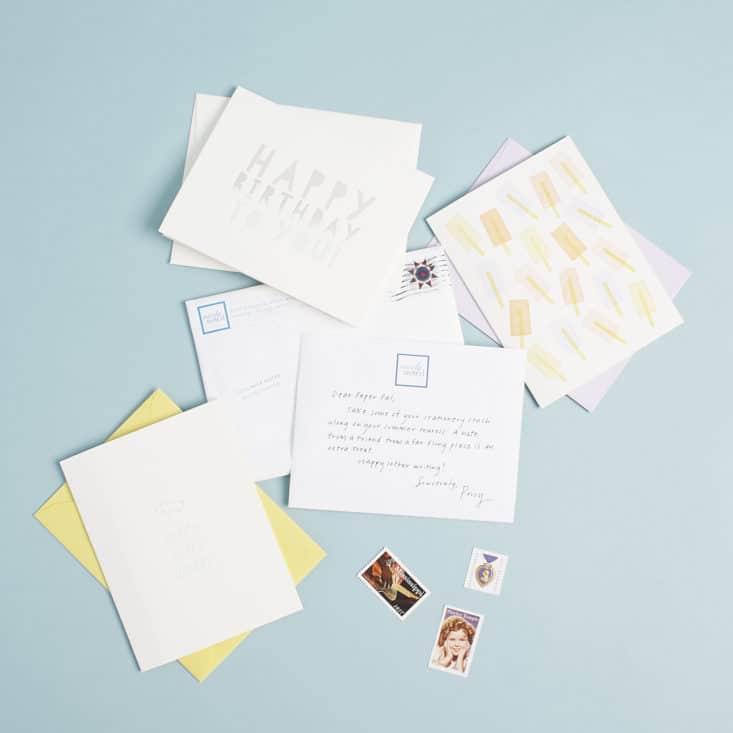 Nicely Noted is a monthly letterpress subscription service. Every month they send you a package with 3 cards and stamps to mail them.
Popsicles by Lucky Horse Press – What a perfect, summery card! I love the pastel popsicle colors, too!
Happy Birthday by Alee and Press – This two-toned grey-blue birthday card is simple and fun. (And I always need birthday cards!)
Hippo Hippo Hooray by Iron Curtain Press – Who knew hippos could be so tiny and cute? And while this card is quite minimal, I love the pop of color with the yellow envelope. I love an unexpected approach to your standard congrats card!
Each Nicely Noted package also comes with stamps to mail your letters.
Verdict – My verdict on this subscription is almost always the same = if you love letterpress cards, I think you will be very happy with the quality of cards Nicely Noted curates. It's not the best retail value card subscription, but if you are looking for unique cards from letterpress makers across the country, I think it is great. (Plus Nicely Noted always seems to send super useful cards like birthday and Thank You cards.)