A Year of Boxes Review – November 2015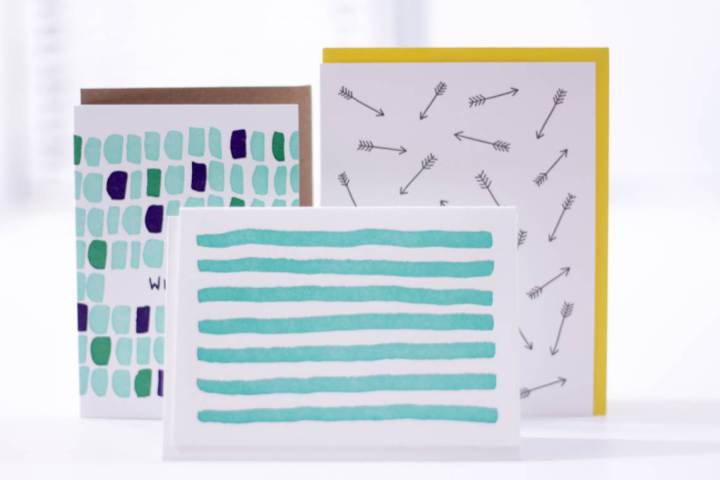 I absolutely love this fun little subscription! I don't know what it is about Nicely Noted, but it makes me happy every time I see it on my desk. I'm sure I've said that before, but figured it wouldn't hurt for you to hear it again. Maybe it's because these cute little cards give me hope that handwritten letter mail will survive this crazy technology phase and NOT become a thing of the past. Receiving a handwritten card in the mail is so much better than a text message that took two seconds to write. Here's hoping….
If you aren't familiar with Nicely Noted it is a monthly letterpress subscription service. Every month they send you a package with 3 cards and stamps to mail them (US subscriptions only). This box was provided complimentary for review.
Green Stripes (Alee & Press) – A pretty colour and simple design, often times it's these kinds of cards I like the most. They allow you to use your imagination, and give you the flexibility to use it for almost any occasion.
Arrow Pattern (Lucky Horse Press) – Another simple design but the arrows make it really fun. This is another one that can be used for many different occasions.
With Gratitude (Hammerpress) – And here we have our monthly "thank you" card. I say it every single time but I love that we get a gratitude card every month.
Thoughts: It's funny that I talked about the art of handwritten mail in the opening paragraph because Penny from Nicely Noted touches on the same thing in her note to us this month. She says "thank you for continuing to believe in sending handwritten notes" and that pretty much sums it up….believing. Our Grandmothers did this on a regular basis for a reason, it's the best way to let someone know you are thinking about them. It takes absolutely no effort to send a text message, and not much more to send an email. But to sit down with a cup of tea, take the time to pick out a card, and write a personal note, takes time, energy and love. Maybe that's why I love this subscription so much….
Read the original review here.