A Year of Boxes Review – December 2015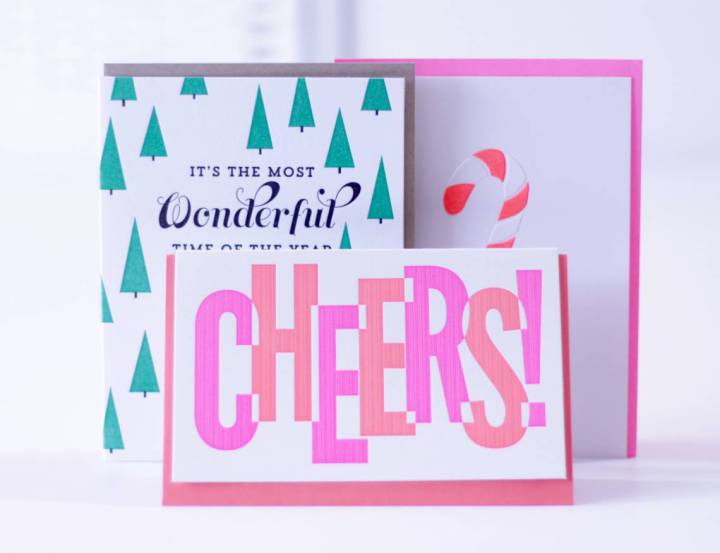 I feel like I just received my November Nicely Noted and here we already have my December package. And it's kind of ironic because I think I mentioned in my November review that I would have liked to see some holiday themed cards…..and ta-da!! Here they are! And perfect timing too. I can't wait to use these pretty little Christmas Cards.
If you aren't familiar with Nicely Noted it is a monthly letterpress subscription service. Every month they send you a package with 3 cards and stamps to mail them (U.S. subscriptions only). This box was provided complimentary for review.
I am so happy to see Holiday themed cards in this month's package. And I especially like that they aren't your traditional Christmas and New Years colors. As always, they are simple yet stylish at the same time. The style of cards we receive in our Nicely Noted envelopes fit my stationery preferences perfectly.
Wonderful Time (Paper Bandit Press) – I feel like this little car is an iconic Christmas image. I recognized it as soon as I saw it, and it made me love the card that much more. It's simple, clean, cute and has a bit of a retro vibe going on – love it!
Candy Cane (Ashkahn) – Even more simple than the last card but just as wonderful. It's hard to tell from the photo but the stripes on the candy cane are as bright as bright can be, does that make sense? I love that they used non-traditional colors on a traditional card.
Cheers to You (Anemone Letterpress) – Again we have some extremely bright colors and I think they are perfect for New Year's. I love the lettering and love this card…but then again I love every card from Nicely Noted, so that should come as no surprise.
Thoughts: This month's Nicely Noted came at the perfect time, and I'm actually kind of surprised. Being in Canada, I'm used to getting my packages late, meaning I will sometimes receive holiday themed packages the day before the actual holiday and sometimes even after the holiday is over. Seeing as I still have about 6 days until Christmas, I will have time to put these little beauties to use. I really enjoy my monthly Nicely Noted package, and even though it ends up being a little more expensive for us Canadians given the exchange rate, I still think it is worth it. The fact that I get beautiful cards delivered each month makes it that much more valuable to me, as it means less time spent at the store picking out card that aren't half as pretty. But keep in mind that this is coming from someone who LOVES any kind of stationery……so I might be a little biased.
Read the original post here.