The Aesthetic Union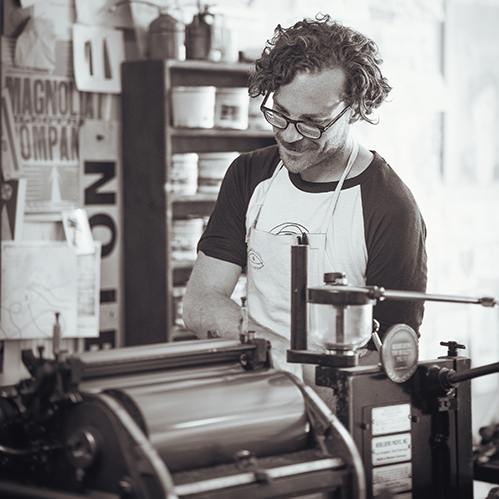 Where did the name of your studio come from?


The name, 'The Aesthetic Union', was derived from a shared sense of physical space as well as the idea that art and design can be a collaborative process. Physically, the Aesthetic Union shares a workspace with another small business called, 'Case For Making'. Furthermore, we believe in collaboration where artists and printmakers can come together to work on unique projects.

Who is on your team, and how did you come together?

I, James Tucker, started The Aesthetic Union in 2013. Currently, I'm the only full time employee here but I'm fortunate to have 2 part time employees who help steer the ship. Our press operator, William White has over 30 years of printing experience and has been an integral member of our team. Alex Motal helps me with administrative work and business development.

How did you get into design and letterpress printing?

After earning a BFA in printmaking from the Maryland Institute College of Art, I moved to San Francisco in 2007 and began working with a number of local printmakers. It was an incredible time where I explored my craft and became interested in a number of different quirky vintage things that has influenced my aesthetic. At that time, I began living on an old house boat, began sailing and bought a vintage motorcycle. I wrote more and started to become interested in machinery. At the time I didn't realize it but all of these experiences would come together down the road and help me become a printmaker and small business owner. 

Where do you find inspiration for your designs?

I like to think that my personal experiences of the past are somehow resurrected in my work. I've noticed that gifts, current events and the climate also bleed into my designs. 

What kind of press(es) do you use?

Currently, we have a 1952 Heidelberg Cylinder, a 1974 Heidelberg Windmill, a 1933 Vandercook No.219 Proving Machine and a 1910 Chandler & Price.

Which press was used to print the Nicely Noted cards?

The Heidelberg Windmill.