Sweet Bippy Press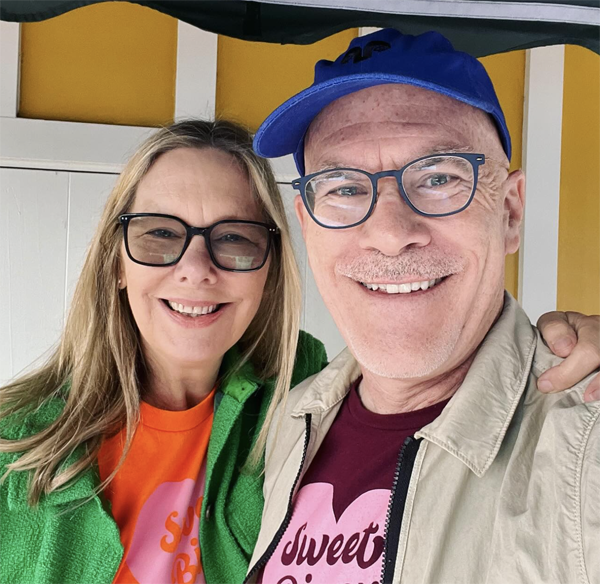 Where did the name of your studio come from?

"You bet your sweet bippy!" was popularized by the American television show Rowan & Martin's Laugh-In, which ran from 1968 to 1973. According to Merriam-Webster, Bippy is used euphemistically for an unspecified part of the body. We love the combination of cheekiness and the retro feel. 

Who is on your team, and how did you come together?

When Michael first met Patricia she saw his press and said "I've always wanted to have a greeting card company." That's all it took. Three years later, the duo has over 200 card designs, a 1200 square foot shop, and are having more fun than adults should be allowed to have. As co-owners, Michael and Patricia love coming up with ideas for new cards. For the last 30 years the pair have been honing their skills—Michael in national consumer advertising and Patricia in sales and customer success. He loves designing and she loves helping customers. It's a perfect match (the title of one of our card designs, coincidentally).

How did you get into design and letterpress printing?

In 2002, Michael went on a press check at Full Circle Press in Nevada City and the owner Judith Berliner convinced him to buy his first press, a Chandler and Price. From the time he pulled his first print, he was hooked. 

Where do you find inspiration for your designs?

Everywhere! Vintage cookbooks, modern art, you name it. We each have about 300 ideas floating around in our heads for new cards. It's so much fun to see them come to life.

What kind of presses do you use?

Our first press was a 1905 Chandler & Price platen press. In addition to the C&P, we have three Heidelberg Windmills, two for ink printing and one—named "Metallica" — which is dedicated to foiling and die cutting. Our latest purchase is a Vandercook No, 4, which we call "Vanderhalen."

Which press was used to print the Nicely Noted cards?

The Nicely Noted cards were printed on our musically named Heidelberg Windmills. "Willie Nelson" did the printing and embossing, while "Steely Dan" did the scoring.