Little Goat Paper Co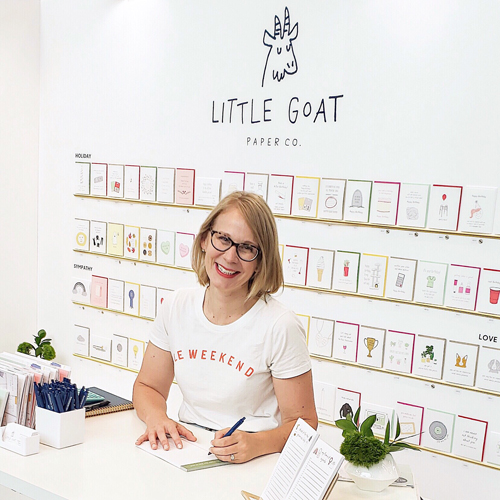 Where did the name of your studio come from?

My astrological sign is Capricorn, which is represented by the goat, and has a reputation for being tenacious and hard-working, which seemed like good qualities to bring into entrepreneurship! Each little step I take as my business grows is a step in the right direction, however small, always moving forward. Also, when I was growing up we had neighbors who kept a family of goats in their front yard, and these goats were always battling it out to see who could stand on this lone box in their yard. I have warm and fuzzy memories of driving by and seeing one silly goat standing on a box in the middle of yard while others tried to climb on.

Who is on your team, and how did you come together?


Little Goat Paper Co. is a one-woman show, and I wears all of the hats at this small but mighty enterprise.

How did you get into design and letterpress printing?

I learned to letterpress print at Pyramid Atlantic Studio in the DC area, which is an amazing community arts and studio space. I spent years taking classes and going to open studio sessions to before finally buying my own printing press. I have a Crafsman Superior and a newly acquired Golding Pearl.

Where do you find inspiration for your designs?

All products start with hand-drawn pictures and irreverent sentiments I think up (usually while sitting in DC-area traffic), taking inspiration from snarky text exchanges, witting musings from friends and family, and every occurrences. This particular card is inspired by the birthday treats served at one of my favorite DC dive bars!