Grove Street Press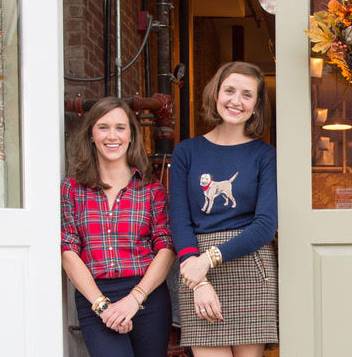 Grove Street Press was founded by Kate Wyman and Anna Boyer. It's the name of the street Kate grew up on in New Orleans, Louisiana, and where her parents still live. Their original press, Patsy, a Chandler and Price, also still lives there, where it was refurbished in a shed the summer after college.
Where did the name of your studio come from?

Grove Street is the street I, Kate, grew up on, and where my parents still live. My original press, Patsy, a Chandler and Price, still lives there — I refurbished it in a shed behind my parents house the summer after college.  Anna and I spent long Louisiana summer days playing in the same backyard. Our history as both cousins and a business is wrapped up on Grove Street. 

Who is on your team, and how did you come together?

We are cousins and best friends.  Our mothers are sisters and close, and we spent most of our childhood together. Opening a business together was something we always talked about — and the timing lined up perfectly:  Anna graduated with a graphic design degree right as I moved back to Louisiana after discovering letterpress and refurbishing the C&P, aka Patsy.

How did you get into design and letterpress printing?

We were raised in a very textured environment in South Louisiana.  Both of our mothers collect American Antiques and found joy in cultivating beautiful spaces. Formal education in design and love of letterpress is a natural extension of strolling Roundtop and Brimfield and watching our moms rearrange and style collections all our lives. I learned the mechanics of a C&P refurbishing it, and fell in love with the craft. We moved into a full print shop and retail space in New Orleans with another C&P and a Vandercook SP-15. As demand for our cards grew, and we transitioned Grove Street into a full design studio with a focus on branding. 

Where do you find inspiration for your designs?

Our designs are a mix of both of love for the South and our love for the American heritage looks of New England.  We like to play on time-tested elements of style (sailor stripes and LL Bean Boat totes, for example) and motifs of southern leisure (old fashioned cocktails and hunting dogs, etc)  We like to take things that are well-worn and classically tasteful and infuse them with a little personality.