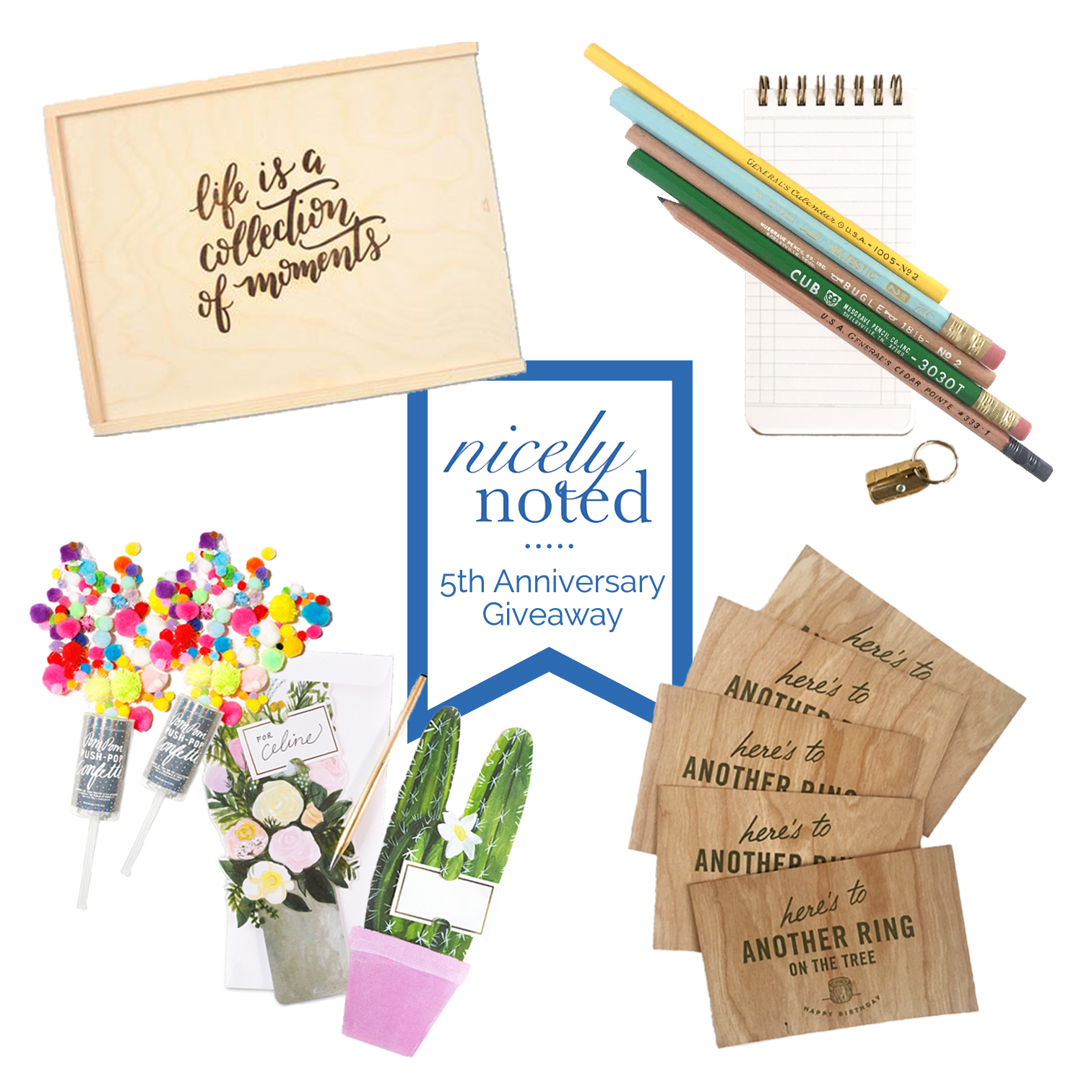 It's hard to believe that we are celebrating our Fifth Anniversary! Thanks to each of you who has been a part of Nicely Noted along the way. We've sent thousands and thousands of collections and you've shared thousands of handwritten notes as well.
The traditional fifth anniversary gift is wood, so you may notice a theme!
The prize: Five made in the USA pencils complimented by a ledger and lovely pencil sharpener from CW Pencil Enterprise. A gorgeous keepsake box from Parrott Design Studio, also handmade in the USA, with beautiful lettering on the lid – "life is a collection of moments." Pom poms flying from Thimblepress's newest signature Push-Pop Confetti should help the winner mark any occasion in style. Also from Thimblepress are two Flowever cards to ensure your green gift won't wilt in a few days. And last, but not least, Sideshow Press magically letterpress prints on wood! The lucky winner will receive five "here's to another ring on the tree" Happy Birthday postcards.
Enter to win below.
Thank you to our generous giveaway partners! It's been a joy to get to work with so many generous, ambitious, inspiring stationery colleagues all these years.
Sincerely,
Perry
[giveaway id=3517]
GIVEAWAY ITEMS:
Keepsake Box – Parrott Design Studio
Pencils, Ledger + Sharpener – CW Pencil Enterprise
Pom Pom Push-Pop Confetti + Cactus and Pewter Flowever – Thimblepress
Wood Postcards – Sideshow Press